Andaman Family Tours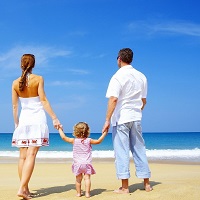 The age old formula, the family sitting and eating dinner together, does it really work if the purpose is to establish a strong family bonding? Many would feel aghast and agree that in the contemporary world it does not seem to be working. And many prefer spending vacations at some exotic place with there family. If you are planning another holiday with your family, we suggest take an Andaman Family Tour from Joy Andaman Travels. Andaman is a fine hybrid of beauty and adventure.

The islands here are brimming with beaches and there are many adventure complexes to wallow in variety of sports. Andaman has something joyful to offer to every age group. The elders can relax in the pleasant environment and irrespective of how old you are you can enjoy many water sports and activities like trekking, camping, etc. Take a tour with us! We are a Port Blair based authentic travel company.
Duration : 4 Nights / 5 Days

Price (Start From) : On Request

Destination Covered : Port Blair, Havelock

Duration : 4 Nights / 5 Days

Price (Start From) : On Request

Destination Covered : Port Blair, Havelock
Duration : 4 Nights / 5 Days

Price (Start From) : On Request

Destination Covered : Port Blair, Havelock

Duration : 4 Nights / 5 Days

Price (Start From) : On Request

Destination Covered : Port Blair, Havelock
Duration : 5 Nights / 6 Days

Price (Start From) : On Request

Destination Covered : Port Blair, Havelock
Duration : 5 Nights / 6 Days

Price (Start From) : On Request

Destination Covered : Port Blair, Havelock

Duration : 5 Nights / 6 Days

Price (Start From) : On Request

Destination Covered : Port Blair, Havelock
Duration : 4 Nights / 5 Days

Price (Start From) : On Request

Destination Covered : Port Blair, Havelock
Duration : 4 Nights / 5 Days

Price (Start From) : On Request

Destination Covered : Port Blair

Duration : 4 Nights / 5 Days

Price (Start From) : On Request

Destination Covered : Port Blair
Duration : 2 Nights / 3 Days

Price (Start From) : On Request

Destination Covered : Port Blair